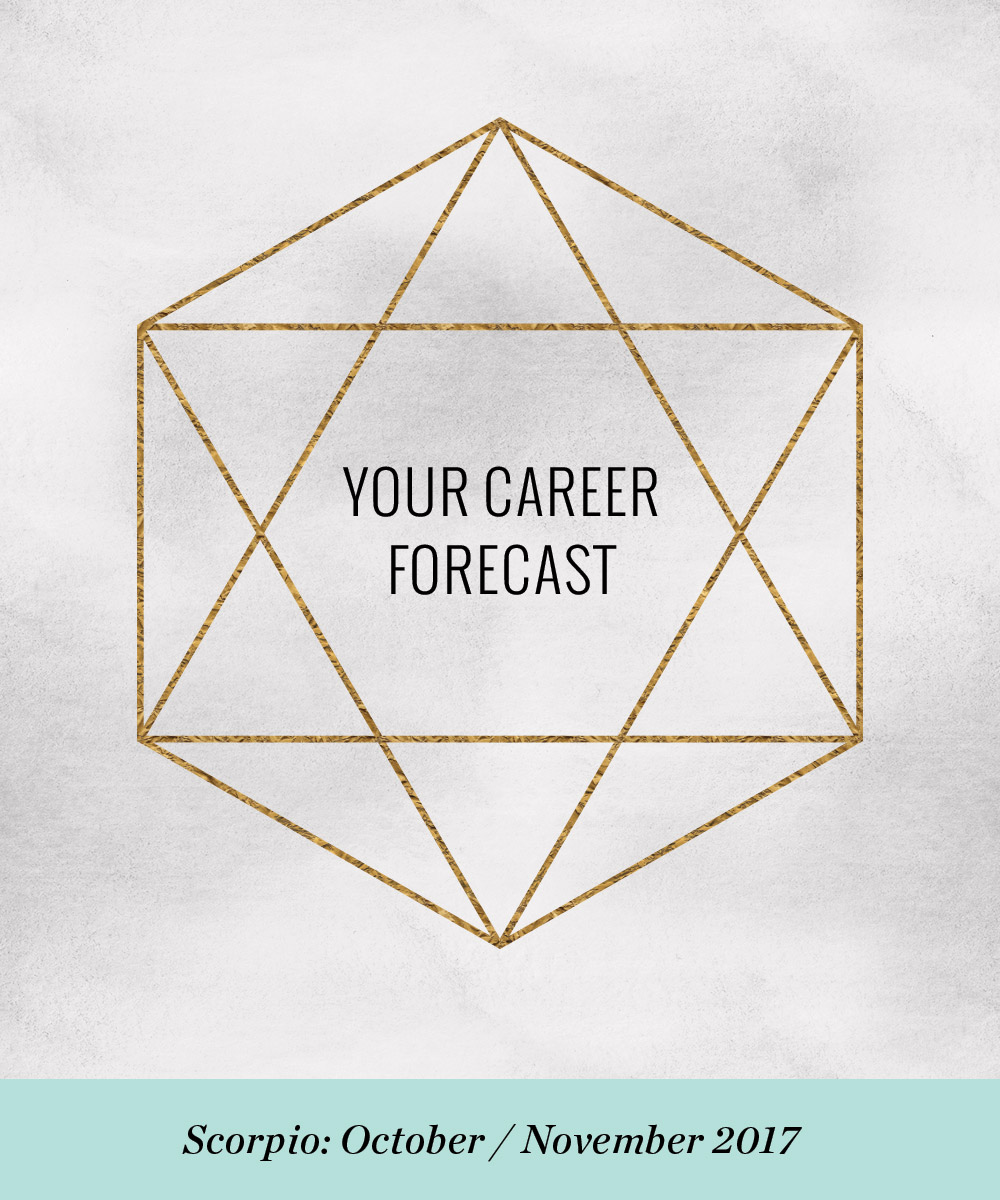 I work as a career and business strategist. But my secret passion is… astrology!
About once a month,  I post an overview of what's happening in the cosmos and how it might influence your career. It's called: Your Career Forecast.
Whether you're job-hunting, running your own business, or wondering about the ideal time to ask for a raise or take a vacation, each Career Forecast will reveal the important dates and cosmic shifts that you need to know about.
I am joined by my dear friend, Heidi Rose Robbins, a master astrologer who will provide expert insight into what's going on in the stars.
Let's dive in!
---
OVERVIEW
What's going on this month…
HEIDI: The Sun moves into Scorpio on October 22nd at 10:27pm Pacific. Scorpio is the sign of tenacity, depth, and control. It rules sex, intimacy, money, and death. It likes everything to be INTENSE. It dives deep and doesn't come up for air. It commits. The month of Scorpio is always a very powerful, get-it-done month. We work hard. We face ourselves. We wrestle with our own inner dark and try to lift it repeatedly into the light. We call upon our inner warrior.
Interestingly, Mars moves into Libra on October 22nd as well, so there can be both diplomacy and fight. We can fight (Scorpio) for right relationships (Libra). We can have intense conversations (Scorpio) with an open hand (Libra).
Expect inspiration and imagination on October 24th when Mercury trines Neptune. It's not the best day to get things done. It's a much better day to dream about your next project, to seek inspiration, and to let your intuition lead the way.
It's the Full Moon of Scorpio on November 3rd. Use the Full Moon energies to honor your warrior. Lift everything that feels dark, problematic or unloveable into the light. Do a ceremony. Light a candle. Meditate. Choose to end something that doesn't serve you. Use this phrase: "Warrior am I and from the battle I emerge triumphant!"
Mercury moves into Sagittarius on November 5th giving us new vision and a renewed sense of purpose. If you have felt depressed or unmotivated, this shift will help tremendously. What are your goals? What is one tiny goal that you could reach today? Go for it.
Venus moves into Scorpio on November 7th, joining the Sun and Jupiter in Scorpio. Venus is the planet of love, intuition, and artistry. It is about pleasure and beauty. Venus in Scorpio is sexy, sensual and deep. It's also a very positive financial placement. It would be a good time to negotiate for a raise—to feel your inherent value and worth.
Venus and Jupiter meet in the same degree of Scorpio on November 13th. It is a day to make something more beautiful. With the moon in Virgo for a good chunk of that day, it might be connected to your work. Do you need to clean your desk or make your office space a truer reflection of you?
Finally, say what you need to say on November 17th. Mercury and Mars are sextile giving a punch and energy to your words. The moon is in Scorpio which speaks the truth.
---
What does all of this mean for your career? Let's look closer…
JOB HUNTING?
Here's what you need to know…
ELLEN: Job-hunting can sometimes be a slow, tedious process. You send out dozens of emails and you wait… and wait… and wait. Or you do a job interview, only to discover that this really isn't the right workplace for you. Or you get a job offer but the salary is pathetic, and they're unwilling to negotiate. Ugh. It's easy to feel discouraged.
But there's good news: with the Full Moon in Scorpio on November 3rd, this is a great time to shake off discouragement and get fired up. Your inner warrior will ignited, in full force, ready to conquer the challenges ahead.
On this day, write down your "dream job description"—exactly what you want and why. Read it back to yourself. Remind yourself that an amazing job is worth waiting for—and worth fighting for. This isn't the moment to give up or settle for a second-rate situation. It's time to rally! You can and you will!
---
ALREADY HAVE A JOB?
Here's what you need to know…
ELLEN: With Venus in Scorpio on November 7th, sensuality, beauty, and prosperity are in the air! Your powers of persuasion will be enhanced. Wishes will be granted. If you want to ask for more vacation time, a bigger salary, a different schedule, or a brand new Macbook Air laptop, today is the day.
Overall, November 7th is a powerful day for all things prosperity- and money-related. You might find yourself having a brilliant, out-of-the-blue idea about how your company could generate more revenue or reduce expenses without sacrificing anything important. If something pops into your mind, speak up and share it!
On November 13th, we've got Venus conjunct Jupiter in Scorpio. Venus represents love and beauty. Jupiter is all about higher learning, education, and intellectual pursuits. Scorpio is all about tenacity and emotional intensity. On this day, the vibe is: love + knowledge + getting things done. It's a great day to clean up your workspace, empty your trash bin, grab some inspiring books from the library, or sign up for an interesting seminar. Clear your mind, declutter your space, and set the scene for productivity.
---
SELF-EMPLOYED OR RUNNING YOUR OWN BUSINESS?
Here's what you need to know…
ELLEN: I'm thrilled that we've got Mercury in Sagittarius on November 5th. In ancient mythology, Mercury is the Messenger God, the ruler of words and communication. Sagittarius is the archer, ready to take aim and charge after big, adventurous goals.
With Mercury and Sagittarius energies in the air, November 5th is a great day to think about your vision for 2018 and express it. Write it down. Email a friend to share your plans. Or make a vision board if you're more of a visual thinker rather than a verbal person.
Sagittarius has a frisky, daring quality. It's the centaur—half horse, half human—and this creature refuses to be tamed! If you've been feeling "trapped" in your business—working too much, slogging away, undercharging for your services, or hustling to achieve something that just isn't working—November 5th is a great moment to close that chapter and begin anew. Think: wild horses and wide-open spaces.
Lastly, if there's something you need to say—that you've been holding back— November 17th is a prime opportunity. It's a day of truth-telling. That blog post you've wanted to post, except you worry it's too revealing, or maybe a little too honest? Post it. Share your story. Maybe you need to fire your assistant because things are not working out? Do it. Or maybe there's someone you'd love to collaborate with, but you worry they're too busy or won't be interested? Just reach out! Don't suppress the words that you're yearning to say.
---
OVERALL, THIS IS A GREAT MONTH FOR…
• Deep and authentic conversations.
• Tenacity, intensity, finishing projects, getting things done.
• Connecting with your emotions: what you really want and why.
• Cleaning, clearing, setting the stage for a successful new year.
• Speaking the truth.
---
IMPORTANT DATES TO REMEMBER
• October 22nd – The Sun moves into Scorpio. (A month of tenacity and passion begins!)
• October 22nd – Mars moves into Libra. (Combative energy, but also balance and equanimity. A great day to have a fiery debate, or to fight for fairness and justice.)
• October 24th – Mercury trines Neptune. (A dreamy day. Tune into your imagination.)
• November 3rd – Full Moon of Scorpio. (Scorpio powers in full force! Your inner warrior will be activated. Rally the troops. Get things done.)
• November 5th – Mercury moves into Sagittarius. (Set new goals and express them. Write it down. Make a vision board. Start working towards this new reality.)
• November 7th – Venus moves into Scorpio. (Sensuality, persuasiveness, and intensity ripple through this day. Ask for something you want!)
• November 13th – Venus and Jupiter are in the same degree of Scorpio. (Clear your workspace. Make things beautiful. Set the scene for a productive season and new year.)
• November 17th – Mercury is sextile Mars. (Let the truth come out. Say what needs to be said.)
---
CAREER MANTRA FOR THE MONTH
"Many of life's failures are people who did not realize how close they were to success when they gave up."
—Thomas A. Edison
Friends, use this month to get fiercely tenacious and committed. Just do it. Go for it. Dive in. Win the battle with yourself. Overcome procrastination and lethargy. Fight the good fight.
With love,

---
Learn more about my career & business coaching services here.
Learn more about Heidi and her astrological services here.