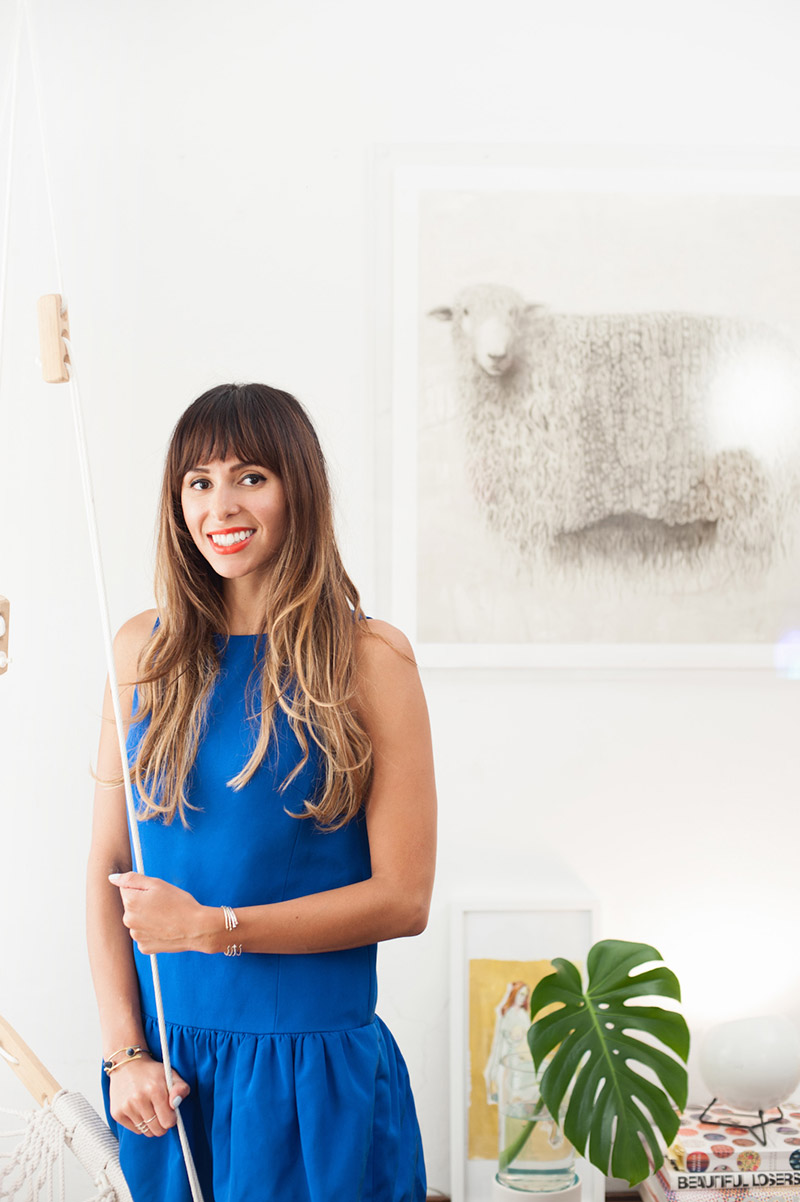 To do the work you love, you've got to unlock a few doors. UNLOCKED Stories are honest conversations with 20 and 30-somethings who chose a path + made it happen.
A note from Ellen: I'm thrilled to spotlight Angela Tafoya, the San Francisco-based editor for Refinery 29.
These days, Angela has a seriously cool + enviable job — but she had to survive 30 job interview rejections to get there! Her story is a lesson in bravery + persistence. I'm totally inspired by her — and I know you will be, too.
Read on, and don't miss the powerful questions at the very end.
---
What do you do?
[Angela]: I work as the San Francisco editor for a website called Refinery 29.
Refinery 29 is a website for people who love reading about fashion, beauty and lifestyle trends, and who love discovering the "best of" what their city has to offer. We have about 8 million readers a day — and our readers are mostly, but not exclusively, women.
My work varies from day to day. Right now I am covering just about everything in the San Francisco market. Producing the stories, writing the newsletters, finding freelance writers who can contribute additional articles, attending photo shoots, and of course, looking for the "next big thing" that's happening in the Bay Area.
Basically: my job is to make sure that every article we publish is totally exciting + intriguing for our San Fran-based readers.
I love that I have a lot of creative freedom, and every day at work feels a little bit different!
Lots of people dream about working for super-hot websites and blogs. How did you get started in this line of work? And how did you land your dream job at Refinery 29?
[Angela]: I've always known that I wanted to work in publishing.
Even as a teenager, I was fascinated by how great magazine headlines + stories are crafted. I would study my favorite magazines from the perspective of a journalist, not necessarily as a casual reader.
After I graduated from college, I did a series of internships for small, local magazines… and then eventually worked my way up to a few bigger publications, like Angeleno Magazine.
While working at Angeleno, I got my first taste of what it felt like to create content for the web — not just for print magazines.
Online media was fairly "new" in those days, so "blogging" and writing "online articles" felt innovative and groundbreaking. I loved it, and realized quickly that I wanted to work in the world of online publishing.
A couple years down the line, I got a job as a freelance writer for Refinery 29. That freelance gig eventually turned into a more permanent position as the Editorial Assistant. And after three months, I was promoted to the Editor.
The leaning curve was very steep, but in many ways, it was a great experience to have it all happen so fast! It forced me to grow as a writer, editor and curator, very quickly.
Your current job rocks, but there was a time when you felt really frustrated because you couldn't land the kind of job that you wanted. Tell us more about that experience — and how you got through it.
[Angela]: After graduating from college, there was a period of time where I applied for so many jobs, I practically lost count. I must have gone on 20 or 30 job interviews, and nothing was panning out.
At one point I thought my dream of working in publishing — as a paid employee, not just an unpaid intern — was never going to happen.
But… I was persistent. I refused to take "no" for an answer.
Even if someone turned me down for a position, I would follow up and politely ask "why?" I kept the conversation going because I wanted to show people I was serious — and also because I wanted to stay on their radar for future positions.
I knew that if I just kept at it — reaching out, following up, keeping the lines of communication open — one day, a door would finally open.
It took time, but my persistence paid off.
What are some of the most exciting things that have been happening for you, lately?
[Angela]: So many awesome things!
Since becoming the San Francisco Editor for Refinery 29, I've been able to meet so many local people doing incredible things — folks that I find so inspiring and who are role models for women and entrepreneurs, everywhere.
I got to interview the designer Zac Posen… and I just had an amazing conversation with Kimberly Bryant, the founder of Black Girls Code.
These kinds of conversations have given me a fresh perspective on how to approach my writing, my work… and my life.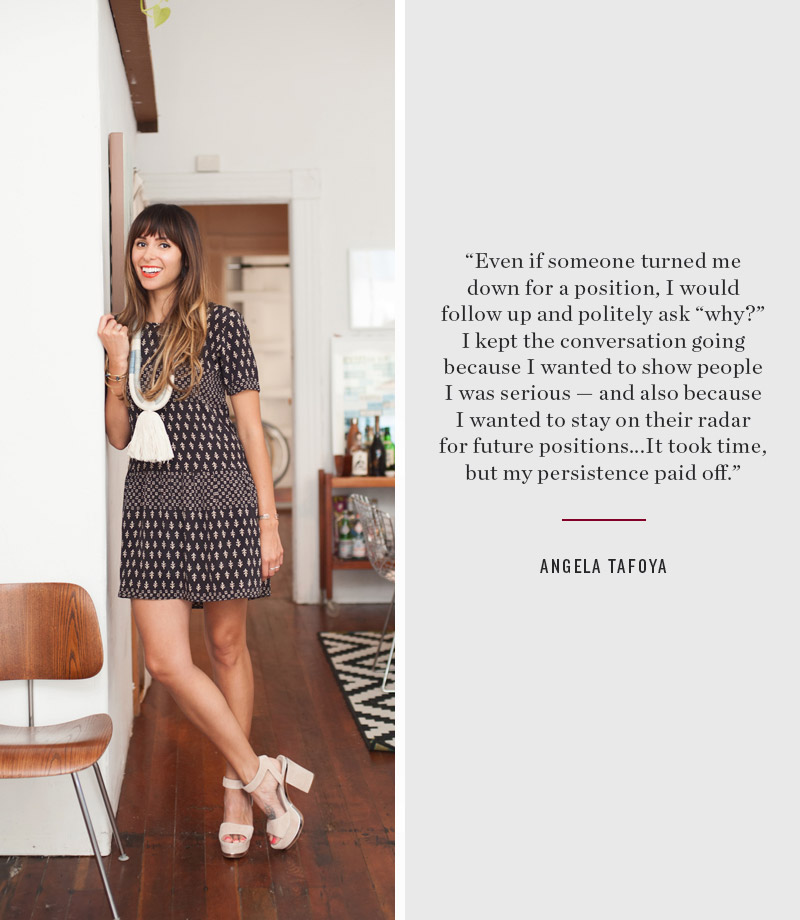 You've already unlocked so many doors for yourself — and your hard work has led to great success. What's next for you?
[Angela]: Back when I was fiercely hunting for my dream job, the job-hunting process took up a lot of my time and energy.
But now that I've landed a job that I love, I have a lot more energy to pour in other directions — like wellness and fitness.
For example, last year I was invited to run half marathon. At first I said "no." But then I realized I spend so much time at my computer and I had not worked out in a year. So I went for it. It was life changing.
Up next? More physical challenges — like that!
It's been awesome to be able to bring my "non-work" passions into my work — writing articles on health and exercise, based on experiences I'm having in my own life.
It's pretty fantastic when "life" and "work" can blend together — each side enhancing the other.
Last but not least: What's your biggest piece of advice for anyone who wants to stay motivated, do amazing work and unlock major doors?
[Angela]: Be persistent.
Don't be afraid to follow up and keep a conversation going — even after someone has said, "No."
Be brave.
Always introduce yourself at parties and gatherings. Put yourself out there. Be open and talk to lots of people. Share what you're up to — and what you love.
Ask questions.
When you see someone living your dream — or working at your dream job — say to them, "I like what you do. How did you get there?"
Most of all:
Pay close attention to the things that you love doing — whether it's reading, running, photography or exploring your city. Whatever you love to do, there's always a way to turn it into a career.
Believe the expression: "Do what you love and you'll never work a day in your life!"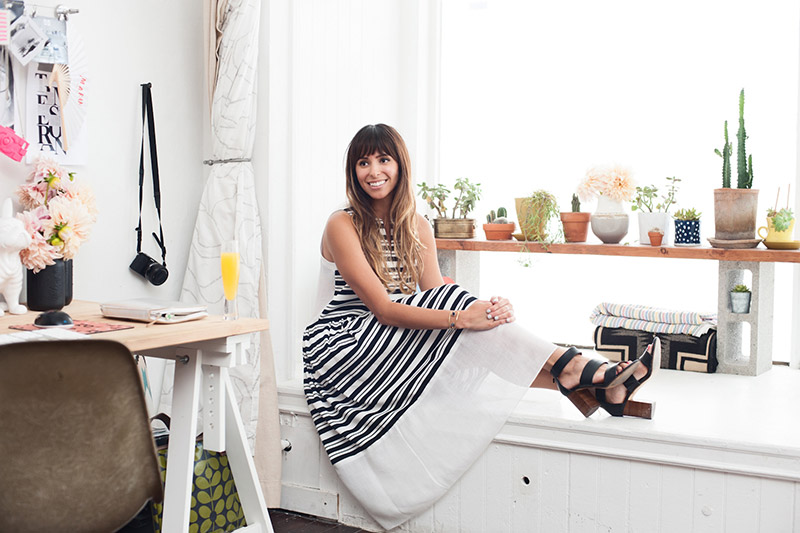 UNLOCK yourself
Three questions to think about, write about — or talk about with a friend.
1. Even as a kid + teenager, Angela was obsessed with magazines and loved studying great headlines to try to understand why they worked. That was her first clue that she wanted to work in publishing.
: What's one of your personal obsessions? (Get specific: Not just "watching TV" but "watching TV because of the amazing set designs and costumes.") What kind of career would allow you to indulge in that obsession, every day?
2. Angela loves the fact that her job feels a little bit different, every day. She's rarely doing the exact same task, all day long.
: Do you crave a job that's consistent, where you know exactly what to expect each day? Or would you prefer something with tons of variety? Or something in the middle?
3. After college, Angela felt frustrated after going on 30 job interviews — and getting rejected for each one. But she was persistent and refused to give up.
: Have you ever experienced a "dry spell" where the world just felt like one, big locked door? What did you tell yourself to get through it?
---
For more UNLOCKED interviews, click over here.
Know somebody that ought to be spotlighted? Write to me here.
See you next time for another inspiring conversation!
Photo: Refinery29 | Maria del Rio.