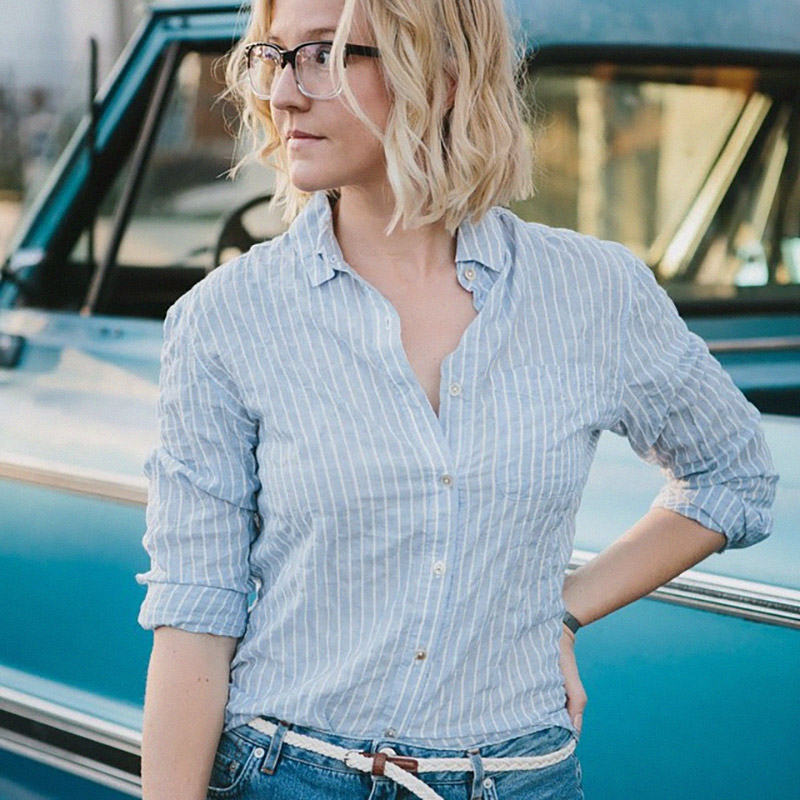 To do the work you love, you've got to unlock a few doors. UNLOCKED Stories are honest conversations with 20 and 30-somethings who chose a path + made it happen.
A note from Ellen: I'm thrilled to spotlight Anne Sage, a lifestyle writer, creative director and social media consultant based in Los Angeles.
Anne's blog, The City Sage, was named a must-read blog by Martha Stewart Living, and she was featured in The New York Times for co-founding Rue Magazine, an online publication on fashion, design and decor. She recently completed her first book, which will be released by a major publisher in 2015.
Her road has not been a smooth one, and she has faced some excruciatingly tough decisions along the way.
Through it all, Anne has learned that being a success — in any field — means putting your health, your wellbeing, and your relationships first… not last.
I am moved by Anne's story, and I know that for Anne… the best is yet to come.
Read on, and don't miss the reflection questions at the very end of this interview.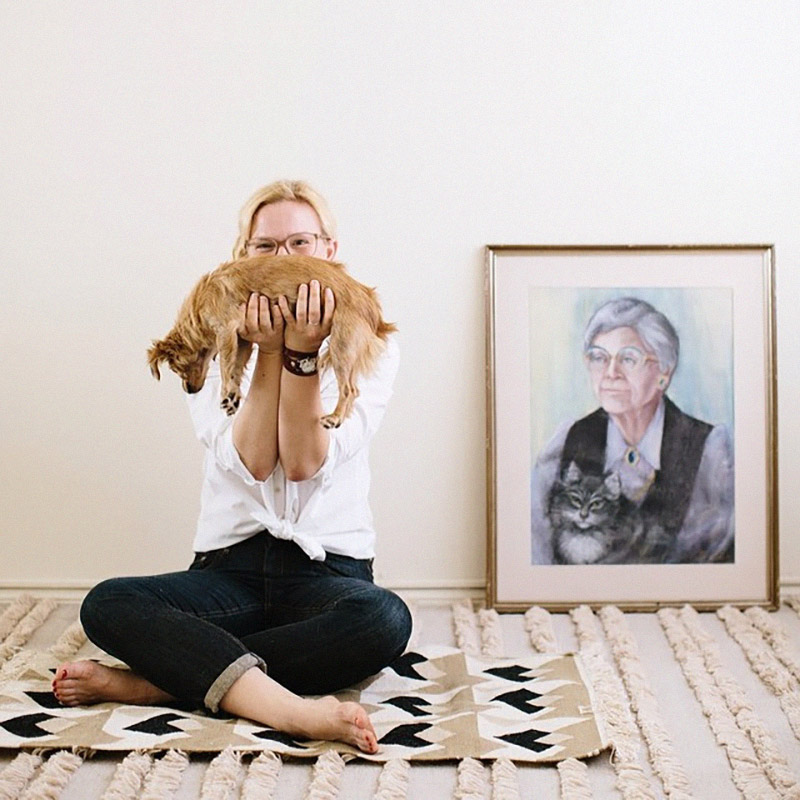 What do you do?
[Anne]: I am a lifestyle writer, creative director and social media consultant based in Los Angeles.
For the past six years, I have written a blog called The City Sage. It focuses on interior design and fashion, and it's also a space for my personal writing on topics like travel and what it means to be kind to yourself.
For the past year, I have also been working on a book that will be published by Chronicle in the fall of 2015. I'm not able to share too many details about that project yet, but I can say that the book explores the intersection of interior design and personal growth.
Your blog, The City Sage, was named a must-read blog by Martha Stewart Living, and you were featured in The New York Times for co-founding Rue Magazine. Those are truly impressive accolades! How did you get started in the writing and publishing world?
[Anne]: After graduating from Stanford University, I moved to New York City to pursue a Masters in Interior Design.
I'd always been obsessed with Martha Stewart magazine, so I assumed I would love doing interior design.
I lasted six weeks in the program before I realized that — even though I love thinking, talking and writing about design — I was NOT destined to be a professional interior designer!
I dropped out, but I decided to stay in NYC… which meant I had to get a job.
I got a position as an intern at an ad agency with clients in the fashion industry.
It was an amazing experience. I got to work closely with fashion designers and I learned a ton about what it takes to promote yourself and build a name for your brand.
While the ad agency taught me a lot, I had a gut feeling that I wasn't meant to work in advertising forever. In fact, I had a burning desire to work for a magazine. But despite months of job-hunting for a position in the magazine industry, I couldn't lock down a position.
A mentor suggested that I start a blog as a way to develop a portfolio of writing and get my voice out there.
I took her advice, launched my blog — The City Sage — and started writing as often as I could. Blogging felt like a natural fit. I loved it.
Eventually, I started doing photo shoots to create original photos for my blog. This was an intentional decision, because I didn't want to just re-publish other people's images, like many bloggers were doing. I wanted to feature original content and make my blog truly stand out.
A few years down the road, a fellow blogger approached me and asked if I wanted to co-found an online magazine. I said "yes." And so… Rue was born.
Being a professional writer is not a cakewalk. I'm guessing you faced plenty of challenges along the way. What was your biggest "locked door" moment — when you felt like all hope was lost? How did you get through it?
After two years of working on the magazine, almost 24/7, I realized that running it was no longer sustainable for me.
My health, my finances, and my marriage had all been affected by my single-minded focus on the project. It was the biggest creative project of my life. I loved it. I was my "baby." I desperately wanted it to be a success.
But running the magazine was taking a terrible toll on my marriage.
I realized that I either needed to leave my marriage to make my business work, or leave my business to make my marriage work. At that time, it felt like I couldn't do both.
I was paralyzed and didn't know which way to turn.
After wrestling with the decision for quite a while, I came across a powerful quote:
"Insanity: doing the same thing over and over again and expecting different results." —Albert Einstein
I realized that I was being insane — struggling to balance the magazine with the rest of my life, pushing, depleting myself, and expecting the situation to somehow "get better."
So I made the decision to walk away from the project.
Walking away from the magazine, after the years of hard work I had poured into it, was the most difficult decision I have ever made. But it wasn't making me happy anymore… and I wanted to see if I could save my marriage.
Ultimately, my marriage did not survive despite our best efforts to make it work.
By the end of that year, I packed all of my belongings in the back of my car and drove to Los Angeles to start my life over.
It was bittersweet, but also freeing.
Finally, I could begin a new chapter.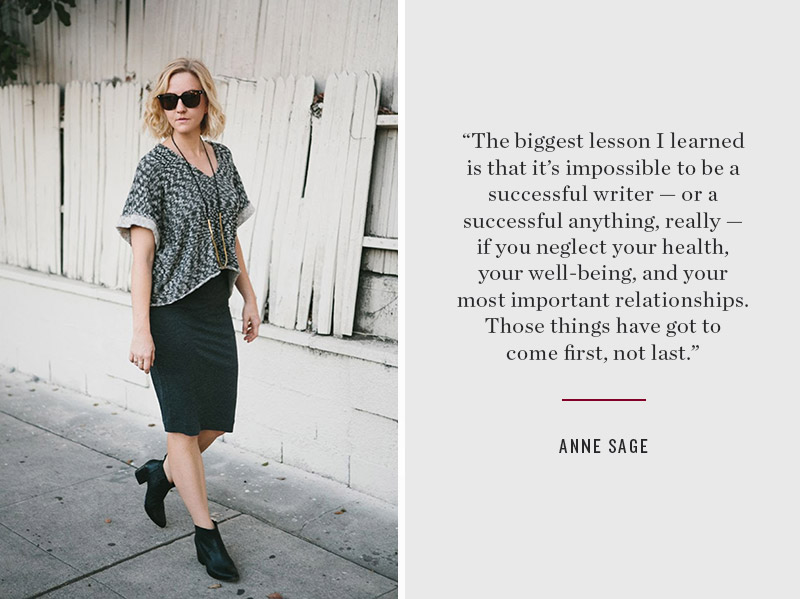 You've had to make some tough choices — and brave moves. What happened after walking away from the magazine?
[Anne]: After leaving the magazine, I turned inward and took a lot of time to look at why things went so wrong. I did a lot of growing up that year.
The biggest lesson I learned is that it's impossible to be a successful writer — or a successful anything, really — if you neglect your health, your well-being, and your most important relationships. Those things have got to come first, not last.
After a great deal of soul-searching and reinvention, an amazing opportunity came into my life: a book deal!
Working on my first book has rekindled my creative spark.
I am so excited to watch it take form.
I can't wait to see it out in the world.
What is the next door you would like to unlock? (And what's the plan?)
[Anne]: Once I finish the book, I am not sure what's next.
I have some thoughts about what I would like my life and career to look like, but I don't know how all of the details will shake out.
What I do know… is that I do NOT want to be on the computer all day. I would love to find a way to be more physically active.
I also know that the realm of personal growth is really exciting to me, right now. For the past 10 years, I have blogged and written almost exclusively about fashion, style, decor, shopping… things like that.
Beauty is important, but there is so much more to life than pretty things to buy.
I want to find a way to weave personal growth and style / design together, because I believe that you can use design to enhance and amplify your personal development goals. That's the message that I'm trying to express with my book. I'd like to continue exploring that theme… in whatever shape it takes, next.
What's your biggest piece of advice for anyone who wants to stay motivated, do amazing work and unlock major doors?
[Anne]: Here's my biggest piece of advice:
Opportunities come and go, but at the end of the day… treating yourself and others with respect and integrity is what matters most.
Don't be tempted by the "shiny objects" of the world.
Know your values.
Know what matters to you.
Put those things first.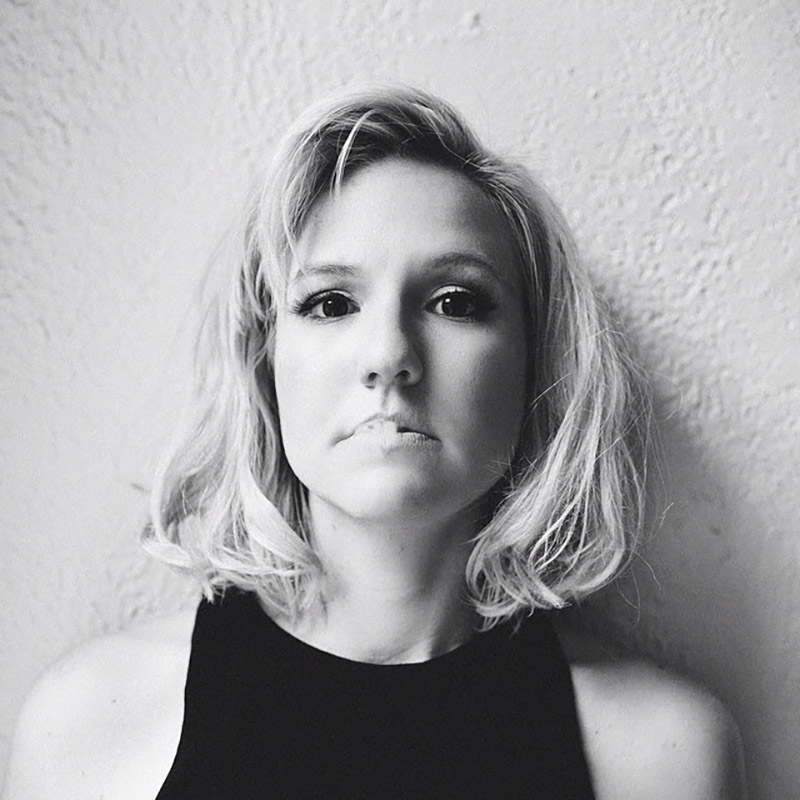 UNLOCK yourself
Three questions to think about, write about — or talk about with a friend.
1. After getting her undergraduate degree, Anne moved to NYC and enrolled in an interior design program. But after six weeks, she realized that becoming an interior designer wasn't her dream, after all.
: Have you ever started a program, a big project, or a job, only to realize — quickly — that it's not your cup of tea, after all? When did that happen? What did you do?
2. Anne started her blog after a mentor encouraged her to start getting her voice out there, online. It was the first big step in her writing career… one that eventually led to a book deal!
: What's one thing you could do to put yourself "out there" a bit more, this week? (Here's a list of 49 ideas to inspire you.)
3. At this point in her career, Anne is much clearer about what she wants (opportunities to write about the intersection of personal growth and design) and what she doesn't want (spending all day on a computer).
: Right now, when it comes to your career… what is one thing you definitely want, and one thing you definitely don't want?
---
For more UNLOCKED interviews, click over here.
Know somebody that ought to be spotlighted? Write to me here.
See you next time for another inspiring conversation!