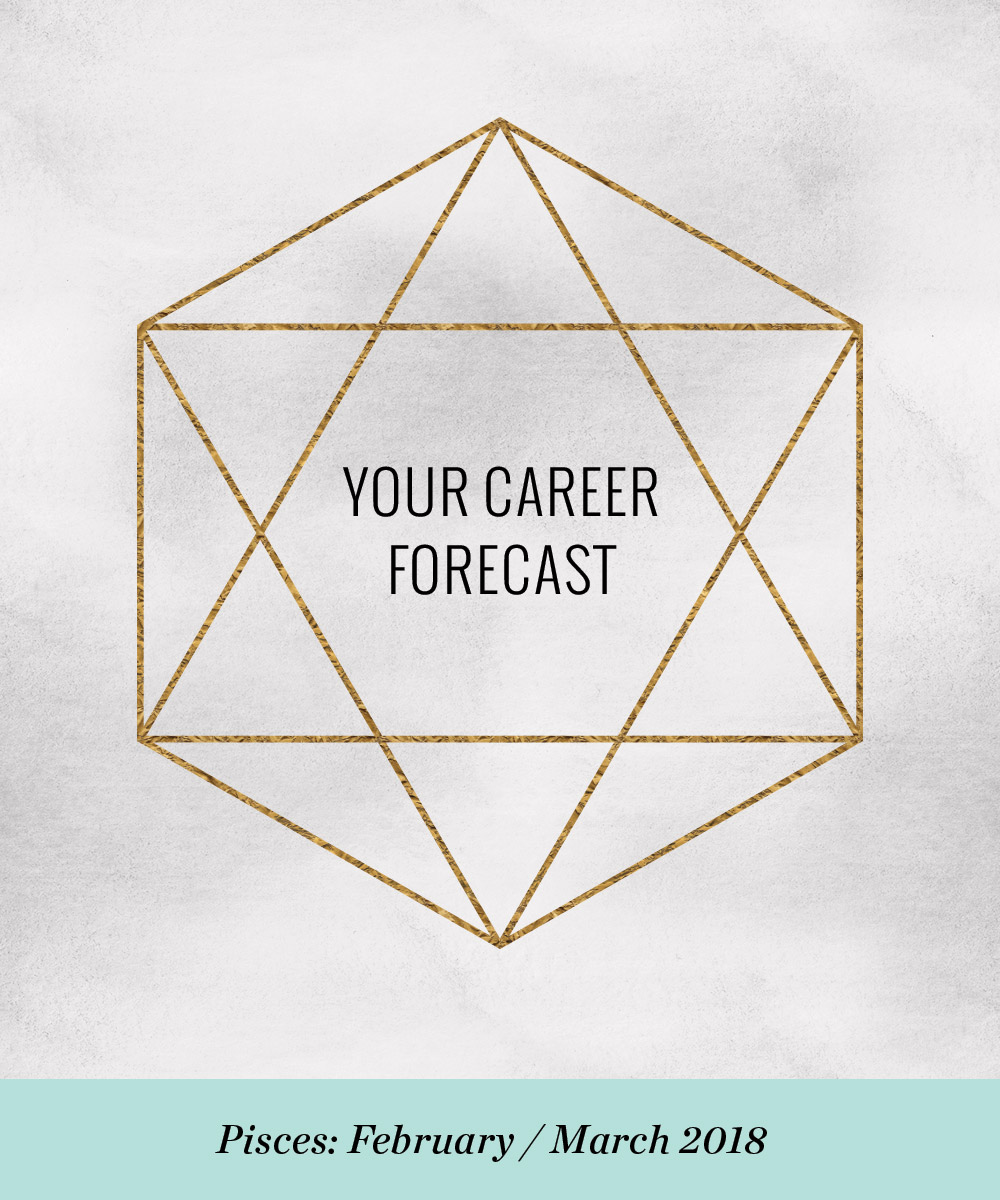 I work as a career and business strategist. But my secret passion is… astrology!
About once a month,  I post an overview of what's happening in the cosmos and how it might influence your career. It's called: Your Career Forecast.
Whether you're job-hunting, running your own business, or wondering about the ideal time to ask for a raise or take a vacation, each Career Forecast will reveal the important dates and cosmic shifts that you need to know about.
I am joined by my dear friend, Heidi Rose Robbins, a master astrologer who will provide expert insight into what's going on in the stars.
Let's dive in!
---
OVERVIEW
What's going on this month…
HEIDI: The Sun moves into Pisces on February 18th at 9:18 am Pacific time. Pisces is a water sign. It brings an ocean of sensitivity and compassion. Pisces rules endings, as it is the last sign in the zodiac. It rules letting go, release and surrender.
Under Pisces, the ocean washes up and erodes what has outlived its time. It also softens the more rigid or structured parts of ourselves, helping us to learn more about unconditional love in our lives.
On another note, Pisces rules the imagination and wakes up the dreamer in each of us. When the Sun is in Pisces, we are meant to steep in the dream. Music, film and poetry all fall under the domain of Pisces.
The Full Moon of Pisces falls on March 1st, amplifying the energy of Pisces. This is the most heightened time of the year for meditating upon compassion, love and uplifting one another through kindness and service. We can take time today to feel beyond ourselves and remember our capacity to positively impact and profoundly change and uplift the lives of others.
March 4th is an extra dreamy day as the Sun shares the same degree as Neptune in the heavens. This is a perfect day for artistry and love. It is a time to receive. The imagination is hugely stimulated. Always with Neptune, however, we must be sure we are seeing clearly. It is easy to let the dream subsume reality.
Mercury moves into Aries on March 5th. Mercury loves to be in Aries. This is a combination that brings bold ideas and forward progress. There may be a certain impatience that accompanies this duo, but sometimes it's good to get a little impatient with ourselves so we finally take the action we need to take.
The very next day, March 6th, Venus moves into Aries and amps up the fire. These are days to begin again, to push forward, to brainstorm. These are days when the great ideas descend and we get excited to dive in.
Mars moves into Capricorn on March 17th which is the best energy to help implement those new ideas. Mars in Capricorn is the Warrior of Work, The Warrior of Determination, The Warrior of Leadership. You'll get the work done—and done well—when Mars is in Capricorn.
There is also a New Moon in Pisces on March 17th which plants the seeds for the upcoming month. Plant seeds of self-compassion and compassion for Humanity! Imagine a better world and take your own tiny steps to make it so.
---
What does all of this mean for your career? Let's look closer…
JOB HUNTING?
Here's what you need to know…
ELLEN: Mercury moves into Aries on March 5th. It's a day of bold ideas, forward momentum, and quite possibly, a feeling of urgency and impatience. You might think to yourself, "It feels like I've been job-hunting forever. Why is everything taking so long?" If you feel annoyed, that's good! Take your irritation and use it as fuel. Channel all of that energy into your job-hunt.
Be bold. Be decisive. Call someone you've been meaning to call. Reach out to a recruiting expert. Contact five close friends and ask them to keep their eyes and ears open for you. Contact a company you love and give them your résumé—even if they're not hiring right now—"just in case." It certainly couldn't hurt. A week or two from now, who knows… they might have an unexpected opening!
Bottom line: on March 5th and March 6th (which is another fiery, push-things-forward type of day) take whatever action step you've been hesitating on. Now is the time to act!
(Side note: if you're feeling stuck with your job-hunt—like nothing's moving forward—I recommend reading Designing Your Life: How to Build a Well-Lived, Joyful Life by Bill Burnett and Dave Evans. It's one of my favorite books on how to map out your life and career with thoughtfulness and care. It might trigger several new ideas for you.)
---
ALREADY HAVE A JOB?
Here's what you need to know…
ELLEN: The Sun moves into Pisces on February 18th. Here, we have an opportunity to wash away the past—and begin anew. As Heidi mentioned, Pisces is the final sign in the Zodiac and it's associated with endings, release, and letting go.
Is there anything you've been "holding onto" at work? Maybe there's a project from last year that didn't pan out very successfully—and you're still feeling embarrassed about it. Maybe you're holding a grudge against a colleague who took credit for your hard work. Or that person who flaked out and left you with a huge mountain of extra tasks. Or that person who sends you passive-aggressive emails five times a day.
If there's anything about your job that feels burdensome, it's time to let it all go. After all, you don't want to walk into the office feeling heavy and stressed!
During the time of Pisces, do whatever you need to do to release the heaviness of the past. Meditate. Exhale deeply. Put a quartz crystal—known for clearing away stale energy—or a healthy plant in your office. Create some kind of ritual or symbol to indicate to yourself, "The past is past. I'm moving on."
About a month later, on March 17th, Mars moves into Capricorn. If there's something at work that seriously needs to get done, today, the Universe is completely on your side! The word for today is: "Implement." This is not a day for dreamy musing and meditating. It's a day to buckle down and crunch the numbers, write the emails, make the calls, complete the designs, send out the invoices… go, go, go! Keep your nose to the grindstone. You'll be stunned by how much you get done.
---
SELF-EMPLOYED OR RUNNING YOUR OWN BUSINESS?
Here's what you need to know…
ELLEN: Not only is March 17th an excellent day for implementing and getting things done, it's also the New Moon in Pisces. On this day, we've got a big, beautiful ocean of emotion—love, compassion, and hope for humanity. If you're self-employed, ask yourself, "How could I use my position as an entrepreneur to improve the world?"
You don't have to be "world famous" or a "billionaire philanthropist" in order to make a difference in people's lives. Be imaginative. Come up with a project that you feel excited to do. The New Moon is an especially good day to begin a healing, world-changing project.
What type of project? Well, for example, you could host a fundraiser inside your shop. You could contribute a small percentage of your profits to charity. You could use your online platform to spread an important message. You could partner with a local school to create a special line of products featuring artwork from kids. You could do something really, really small—like mail one anonymous "thank you" letter to a fellow entrepreneur who inspires you. You could mentor young business owners, writers, or artists—perhaps you've got one, two, or ten years of hard-earned wisdom that you could share.
During the time of Pisces, especially on the powerful New Moon day, think beyond yourself—beyond your individual life and your individual ambitions.
How could you create a ripple of compassion that extends far, far, far beyond yourself? Take a step to make it so.
---
Famous Pisceans:
• George Washington. America's first President. His Presidency marked the end of a turbulent, violent war—and the dawn of a new country. Big, oceanic waves of change!
• Albert Einstein. A scientist, a dreamer, an innovator. A prime example of Piscean imagination—seeing what might be possible, even if nobody else sees it yet.
• Steve Jobs. Another highly creative, imaginative thinker who created massive ripples of change. Jobs' creativity has awakened creativity in millions of people—people who now use his products to blog, podcast, make videos, and so much more.
• Rihanna. Her new makeup company—Fenty Beauty—is a beautiful example of Piscean artistry and compassion. Her product line includes 40 different skin tones, and with this, Rihanna is sending a clear message to her customers: "Nobody is left out. Everyone is welcome here."
---
OVERALL, THIS IS A GREAT MONTH FOR…
• Dreaming and imagination. Your next big idea could be right around the corner.
• Compassion and emotional depth. Dive deep inside your heart. Express. Make art.
• Refilling your creative tank. Reading poetry, attending a film festival, or diving into an inspiring Netflix documentary.
• Finding new ways to serve humanity. Creating positive ripples of change.
• Shedding, creating closure, releasing the past. The time of Pisces is like "New Years Eve" all over again—an ending and a new beginning.
---
IMPORTANT DATES TO REMEMBER…
• February 18th – Sun moves into Pisces. (We enter a month-long period of dreamy, imaginative, artistic qualities.)
• March 1st – Full Moon of Pisces. (Pisces qualities are amplified! Write a love letter today, a love poem, or a song. Let yourself be filled with sensitivity and compassion.)
• March 4th – Neptune conjunct the Sun. (Imagination will be highly stimulated. Another great day for dreaming and creativity.)
• March 5th – Mercury moves into Aries. (Determination and fire, maybe even a twinge of impatience. It's time to implement and get things done!)
• March 6th – Venus moves into Aries. (Another excellent day to push forward and get lots of things done.)
• March 17th – Mars moves into Capricorn. (Yet ANOTHER day for implementation and getting things done! Stay focused. Go, go, go.)
• March 17th – New Moon in Pisces. (An opportune moment to begin a new project—especially a project that's related to artistry, love, and serving humanity.
---
CAREER MANTRA FOR THE MONTH
"Listen to your life…touch, taste, smell your way to the holy and hidden heart of it, because in the last analysis all moments are key moments and life itself is grace." —Frederick Buechner
Pisces reminds us that there's so much more to life than just… work.
Yes, it's wonderful to have a career that you love. Everyone deserves to have meaningful work. Even so, we must remember that work is just one fraction of life—one shore, not the entire ocean.
Try not to let the pressures of work consume you. Don't forget to dream… to touch, taste, and smell… to experience the full emotional spectrum of life. The tiny moments of joy. The scent of the ocean. The pleasure of discovering your new favorite song. All the precious, ephemeral moments that comprise a well-lived life.
During the time of Pisces, let your inner CEO take a backseat, and let your inner Artist lead the way.
Have an amazing month!
With love,
Ellen & Heidi
---
Learn more about my career & business coaching services here.
Learn more about Heidi and her astrological services here.