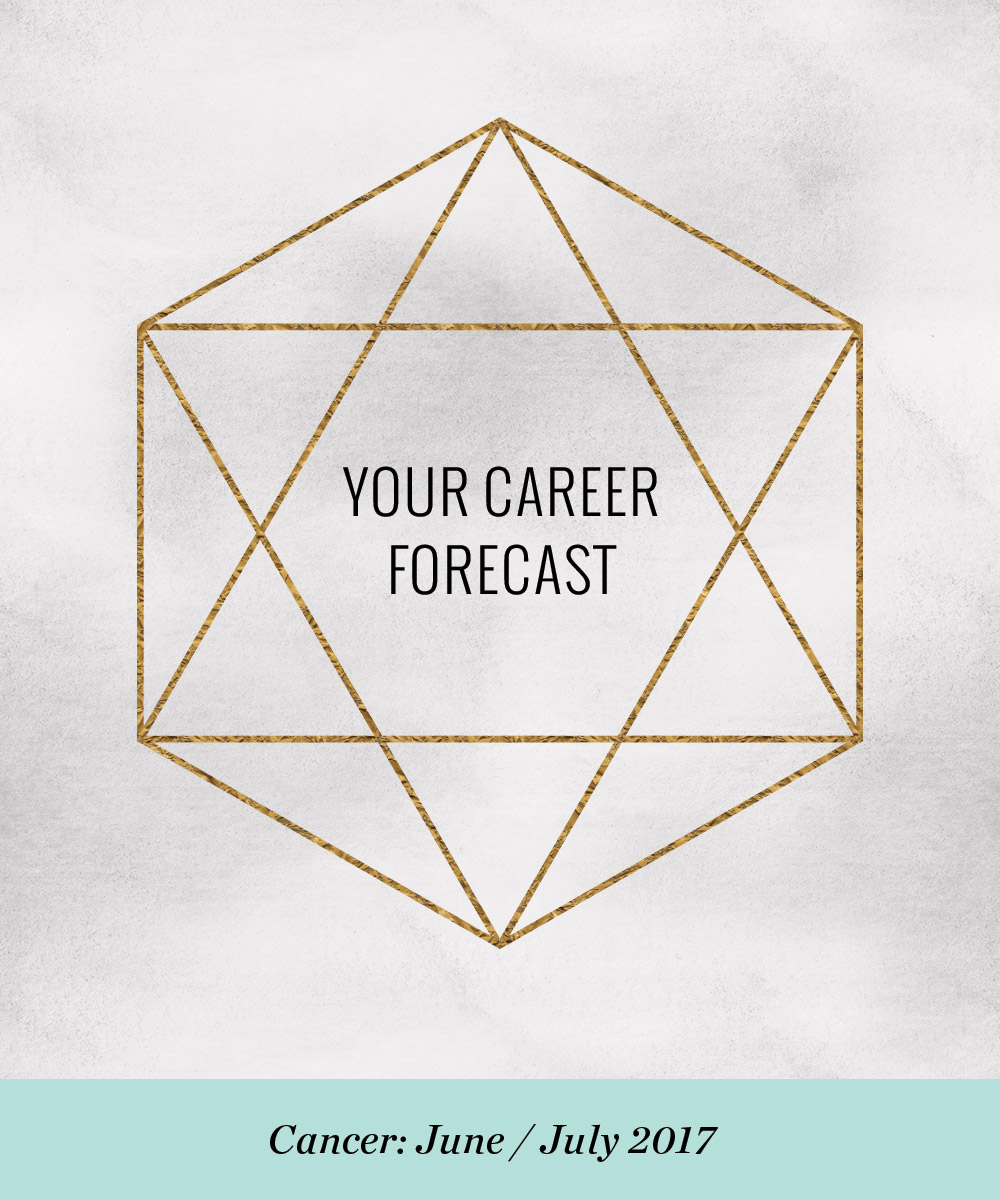 I work as a career and business strategist. But my secret passion is… astrology!
About once a month,  I post an overview of what's happening in the cosmos and how it might influence your career. It's called: Your Career Forecast.
Whether you're job-hunting, running your own business, or wondering about the ideal time to ask for a raise or take a vacation, each Career Forecast will reveal the important dates and cosmic shifts that you need to know about.
I am joined by my dear friend, Heidi Rose Robbins, a master astrologer who will provide expert insight into what's going on in the stars.
Let's dive in!
---
OVERVIEW
What's going on this month…
HEIDI: The Sun moves into Cancer at 9:24pm Pacific on June 20th, 2017. We enter the great sign of receptivity and sensitivity, a sign deeply connected with nourishment. It wants to feed, to encourage growth, to protect and produce. It rules birth, families and building homes. One of the most potent Cancer phrases is:
"I build a lighted house and therein dwell."
During Cancer, we ask ourselves what home we want to fill with light. Do we want to focus on our family home or on a studio for our art? Is there a project we wish to see grow? Is there an event we are meant to produce? Or are we meant to fill our own body with light—paying attention to our physical, emotional and mental well being? All are possible.
Mercury moves into Cancer just one day later on June 21st. Mercury in Gemini had us juggling a LOT. When Mercury moves into Cancer, our thinking becomes more intuitive and we tend to let our feelings have more say. We "feel our way" into things. The only danger is letting our current mood derail our larger momentum. It's definitely a quieter time—to reflect, write and meditate.
The New Moon of Cancer falls on June 23rd. New Moons bring new energy and opportunity. We plant new seeds and feel refreshed. We welcome the potential of Cancer—which is thriving summer.
Venus moves into Gemini on July 4th and will be there about a month. Venus has the power to bring people together. It is magnetic. Venus has the power to fuse the opposites of Gemini. So, with Venus in Gemini we can see the beauty of both sides. We can come up with powerful ways to build a bridge between opposing sides—even within ourselves. It's a GREAT time to write. It's a great time to give a talk about what matters to you.
It helps that on that same day, July 4th, Mercury will move into Leo. This is a sign of great self-expression and confidence. We roar under Leo. We lead well. We shine. Some of us will boast or take ourselves a little too seriously but most of us could use a little kick to share our message and dare ourselves to offer our gifts.
The very next day, July 5th, the Sun will trine Neptune. This is a great day to daydream. Neptune is the God of the water so there's no better place to dream than near a big body of water. Take a walk. Breathe in the vastness. Allow yourself to imagine your next chapter. Read some poetry. Listen to music you love. Let the inspiration flow.
July 8th is the Full Moon of Cancer. Though the moon is in Capricorn, we celebrate the Cancer energy. It is the most potent moment of the month to work with the energies of Cancer. What do you wish to build? What do you wish to fill with light? What needs your loving care?
On July 19th, Mercury trines Saturn which allows you to get very concrete about whatever you dream up. It's a great time to cross off every line of your to-do list. It's an "I mean business" day. Roll up your sleeves and dive in.
Have a beautiful month. Wrap your arms around something and see it grow. I always think of the quote from Field of Dreams when we arrive in the month of Cancer: "If you build it, they will come." Welcome people into your lighted house.
So what does all of this mean for your career? Let's look closer…
---
JOB HUNTING?
Here's what you need to know:
ELLEN: If you're looking for a new job, this is a powerhouse month for you! Venus moves into Gemini on July 4th and stays there for about a month. That same day, we've got Mercury moving into Leo. This combination of planetary forces means that your writing, communication, and leadership skills will be heightened. You might feel a little more daring than usual. More confident. More magnetic. More comfortable in the spotlight. More willing to talk about your achievements enthusiastically, instead of brushing them aside with a sheepish, "Oh, it was nothing, really…"
During this month, the Venus-Gemini energy allows us to "see both sides" of a situation. As you move through the job-hunting process, remember that you're being evaluated by potential employers, but you're also evaluating them, too. It's a two-sided process.
And remember that if you're feeling intimidated or nervous, just know that your future boss is probably feeling the same way! They're feeling pressured to find the right person as quickly as possible, just like you might be feeling pressured to get hired as quickly as possible. You're both human beings searching for "the right fit." Even though you might be sitting on different sides of the interview table, ultimately, you're on the same side.
---
ALREADY HAVE A JOB?
Here's what you need to know:
ELLEN: Mark down June 23rd on your calendar, because that's the New Moon… which means new energy, new ideas, and often, renewed excitement! If you've been feeling a little "blah" about your work lately—bored, disconnected, aimless—you might notice your attitude shifting on this day, or throughout the surrounding days.
The New Moon is also a great time to reflect on the previous month and set some new goals. When it comes to your work, what would you love to keep doing, stop doing, or change? Also, which skills would you like to strengthen? What kinds of projects would you love to lead? What kinds of meetings, retreats, or conferences would you like to attend? Who would be your dream mentor? What would you love to achieve during the upcoming month, and also, during the second half of 2017?
Use the fresh, revitalizing New Moon energy to percolate on these kinds of questions. And if you're sitting in a room all by yourself feeling blank ("Um… I don't know what I want!"), then… get out of your PJs, get out of the house, and meet up with a friend to discuss these questions together. Personally, I always feel much clearer when I can talk things out with a friend. Make a New Moon walk 'n talk date with someone you love, and see where the conversation leads.
---
SELF-EMPLOYED OR RUNNING YOUR OWN BUSINESS?
Here's what you need to know:
ELLEN: When you're self-employed, it can feel like your to-do list never ends. There's always something else you could be doing—another potential client that you could reach out to, another newsletter you could write, another invoice that needs to be sent. If you've been feeling burnt out and exhausted lately, this month is an especially good opportunity to nourish yourself and set healthier limits and boundaries.
If you reply to emails and texts from your clients 24/7, even when you're tucked in bed, maybe it's time for some new communication policies. Maybe it would feel great to put your phone into a drawer at 6pm and leave it there, untouched, until the next morning.
Small choices like this can make a huge difference to your mental and physical health.
As the Sun moves into the sign of Cancer on June 20th, it's a chance to ask yourself, "How could I nourish myself a little bit more? How could I reduce my stress levels? How could I protect myself from getting burnt out?" Ask yourself these kinds of questions, and see what your intuition says in response. It might be something very simple, like, "More sleep!" or "Five clients per month, not six."
After several weeks of extra TLC, you'll be recharged and ready for action. Perfect timing, because Mercury trines Saturn on July 19th, which means it's a go-go-go, get-it-done type of day. You're likely to feel extra-focused and energetic on this day, so tackle your to-do list and see how much you can plough through! You might astonish yourself!
---
OVERALL, THIS IS GREAT MONTH FOR…
• Setting limits and boundaries.
• Preventing (or recovering) from burn out.
• Protecting yourself from unnecessary stress and negativity.
• Paying extra-close attention to your physical, emotional and mental well being.
• And, talking about your accomplishments with confidence and enthusiasm.
---
IMPORTANT DATES TO REMEMBER:
June 20th – Sun moves into Cancer. (Nourish yourself, tend to your well being.)
June 21st – Mercury moves into Cancer. (Lead with your heart, not your brain, and feel your way forward.)
June 23rd – New Moon in Cancer. (Plant new seeds, make new wishes.)
July 4th – Venus moves into Gemini. (Build bridges, see both sides of the situation.)
July 4th – Mercury moves into Leo. (Heightened self-expression and confidence.)
July 5th – Sun trine Neptune. (Daydream and go with the flow.)
July 8th – Full moon of Cancer. (A beautiful day to ask, "What needs my loving care?")
July 19th – Mercury trine Saturn. (A super-productive day. Get things done!)
---
CAREER MANTRA FOR THE MONTH:
"Nourishing yourself in a way that helps you blossom in the direction you want to go is attainable, and you are worth the effort." —Deborah Day
Whether we work in a cubicle, on a cruise ship, or in the world of social justice, activism, or politics, we're all trying to add something "good" to the world. More ease. More beauty. More entertainment. More laughter. More equality. But in order to do good work, we've got to take good care of ourselves. When we're dehydrated, hungry, ache-y, sleep deprived, or zombie-like from too many hours spent in front of a computer screen, that's not fun, and it doesn't lead to our "best quality of work," either.
This month, tune into Cancer energies, and protect yourself from excessive stress. Nourish yourself as best you can. Take excellent care of your mind and body. Really make your well being a priority. This doesn't necessarily mean "eating Paleo" or "hiring a personal trainer." Often, it just means shutting off your computer at a reasonable hour, laughing a little more, walking a little more, and finding a little more balance.
And yes, you are worth the effort.
Have a beautiful month!

---
Learn more about my career & business coaching services here.
Learn more about Heidi and her astrological services here.