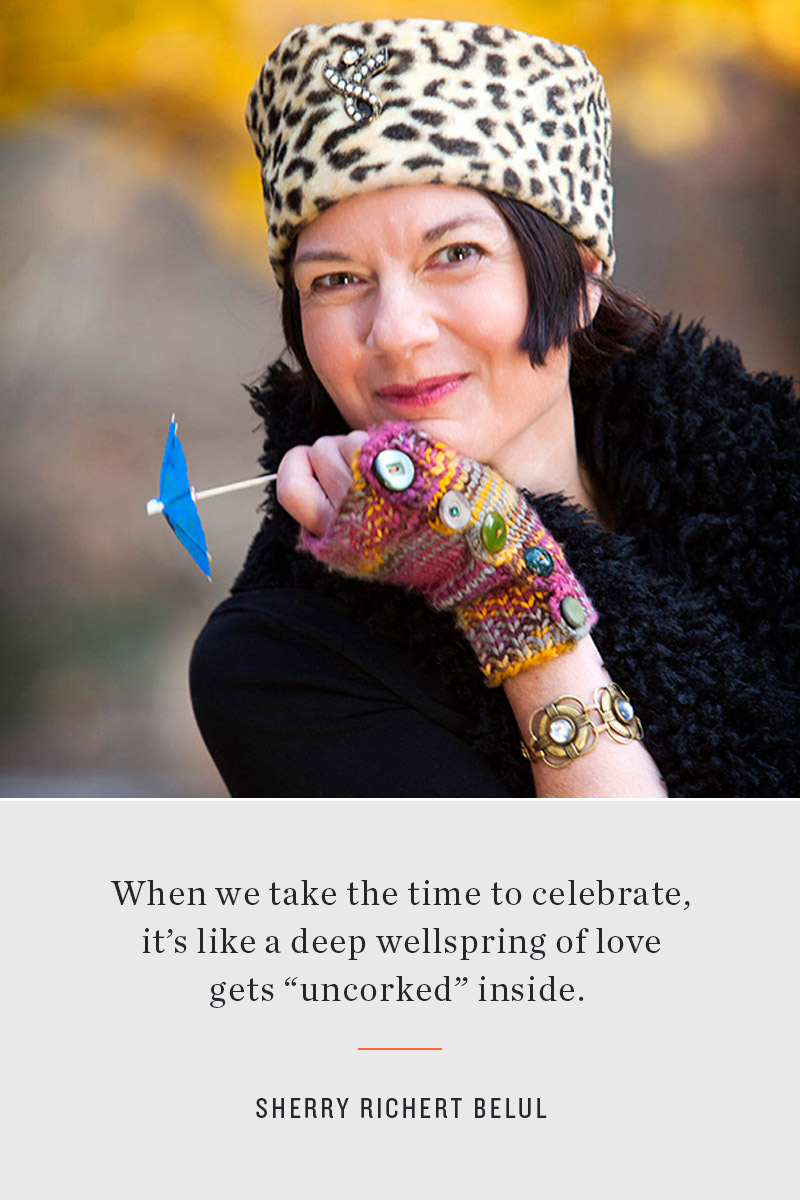 To do the work you love, you've got to unlock a few doors. UNLOCKED Stories are honest conversations with people who chose a path and made it happen.
A note from Ellen: Sherry Richert Belul is one of my dearest friends, and one of the most inspiring human beings I've ever met. She really needs no introduction. Just dive into her story and you'll fall in love with her—and her mission,too.
---
What do you do?
[Sherry]: I run a company called Simply Celebrate where I create meaningful, customized gifts that encourage people to celebrate life, moment by moment, every day.
Two of the gifts that I offer on my website are Audio LoveGrams and Tribute Books, which are special, handmade books filled with photos, memories and stories all about someone's life.
I also run an online course where I teach you how to make your own DIY Tribute Book to honor someone you love—like a parent, grandparent, or an awesome friend.
What was the inspiration for your business?
[Sherry]: It may sound sad or morbid, but "funerals" were actually a big part of the inspiration for Simply Celebrate.
At funerals, all of your loved ones gather around to honor you, celebrate you, and say wonderful things about how much they love you. I always thought to myself, "Why do we wait until our loved ones are 'gone' to celebrate them? We shouldn't wait. We should express our feelings now."
With everything I do at Simply Celebrate, I am trying to inspire people to "say it now."
On your website, you often talk about creating a "daily celebration practice." Why do you think it's so important to celebrate life every day? After all, not every day is your birthday or New Year's Eve!
[Sherry]: When you create a daily practice of celebrating yourself and others, and celebrating ordinary moments, it's just like having a spiritual practice or a meditation practice. It really changes your life.
You feel more appreciative—even when things aren't perfect. You laugh more. You create richer friendships. You might fall in love with your husband or wife all over again—who knows? All kinds of miracles happen when you celebrate.
And I firmly believe that you don't need a "holiday" or a special "reason" in order to celebrate. In fact, unexpected celebrations are often the best ones of all!
Daily celebration really does become a "way of life." You can choose to be an Optimist, or a Pessimist, whatever type of –ist you want. I choose: Celebrationist.
What are some of your favorite ways to be a Celebrationist?
[Sherry]: There are so many options!
You might choose to call a friend that you haven't talked to in a decade or more.
Or you could mail a printed photo to your sister along with a favorite childhood memory of her.
You could plan a special adventure for you and your brother to share together.
You could interview your best friend's elderly mother and record the conversation so that your friend will always have her mother's voice with her.
The simple act of being fully present and engaged when you're talking to someone, really listening to them without half-looking at your phone or being distracted—that is a beautiful form of celebration, too.
I share tons of celebration ideas on my website, including a Love List that you can download and print out for inspiration. I also collect lots of celebration inspiration on my Pinterest board.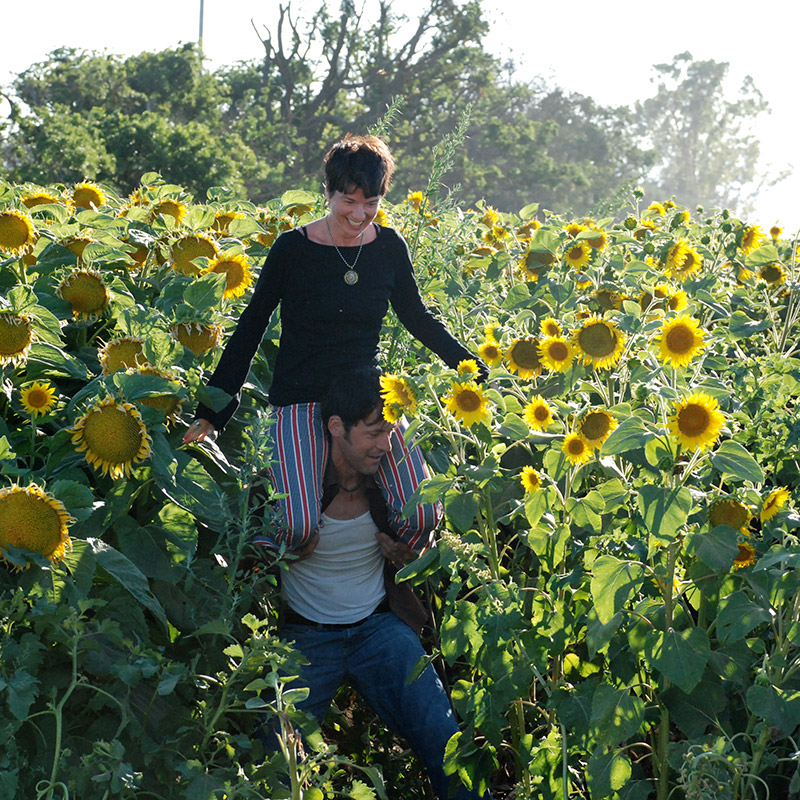 What were you doing before you started your company, Simply Celebrate?
[Sherry]: Before running Simply Celebrate, I was scrambling to get out of a pit of depression.
On the outside, my life looked pretty amazing. I was the executive director for an animal protection agency. Before that, I worked for Teen magazine, writing press releases about "The Great Model Search" and the merits of Dippity-do hair gel. I had a whole string of interesting jobs that sounded "cool" and "impressive."
But on the inside, I was lost. I constantly criticized myself and I felt I wasn't living up to my potential. I thought I was "too emotional," and that I felt things to deeply. My life was measured by all the things at which I failed or all the ways I failed.
Then, two things happened.
One, I was led to take a meditation class where I discovered that the iron wall of depression was not as solid as it looked. I noticed there were moments of well-being and joy in my life—a friend's kindness, my cat purring against my chest, the taste of lime, the sound of bells in the distance.
These moments were pinpricks of light in the iron wall. I started looking for these pinpricks everywhere. From there, I realized I didn't have to wait for those moments of joy to land in my life: I could create them—for myself and for others.
The other thing that happened is that I took a class called "Creating a Life Worth Living." During that class, the idea dropped in to create a business making one-of-a-kind books full of stories, appreciations, photos, and wishes from a whole group of someone's closest friends and family.
Suddenly, all of my attention was turned to love and celebration. Instead of scanning my life, looking for what was "wrong," I began to seek out and celebrate everything that felt so "right." It was like a new compass was being constructed inside of my heart, pointing me towards the light.
What is your favorite part about what you are doing now?
[Sherry]: One of my favorite aspects of my work is that the "ripple effect" of this work can be so surprising and unexpected.
A customer might hire me to help create a Tribute Book, for example, thinking, "Oh, this will be a neat gift for my mom."
But then, through the process of collaborating with me to create the book, that same customer might realize, "My mom is the most incredible woman, I need to celebrate her much more often…" or "I suddenly feel a powerful urge to visit my homeland in Ireland…" or "Wow, now I feel inspired to write a children's book for my kids; I never thought I would do that…" or "I never knew I could feel joy so deeply, or that there was so much love inside of me…"
When we take the time to celebrate, it's like a deep wellspring of love gets "uncorked" inside. New ideas start flowing. So much appreciation bubbles up. Life really changes. Always for the better.
Least favorite part?
[Sherry]: Technology.
I was hosting an online event recently where I was teaching dozens of people how to create handmade gifts and experiences—instead of shopping at malls on Black Friday—and then just as the class was about to begin, my website hosting service had an outage and my website went down!
Luckily, it went back up within a short amount of time, but these sorts of technological snafus can be so stressful.
When you're having a difficult or stressful day, how do you get through it?
[Sherry]: I'm lucky that over the years I've been exposed to so many amazing tools and practices that bring me back to center.
A few of my favorite practices are… putting on a fun hat, meditation, listening to an iTunes playlist full of my favorite feel-good music, writing thank you notes to strangers, leaving appreciation voicemails for people I love, doing a five-minute creative writing prompt, making an audio recording in which I talk to my centered/higher self, doing a handstand or headstand, reading thank you notes or love letters I've received through the years, looking at my favorite photos, meeting a friend face to face, eating foods I love, going outside to look for ten beautiful things, and making a list of things that sparkle in my life.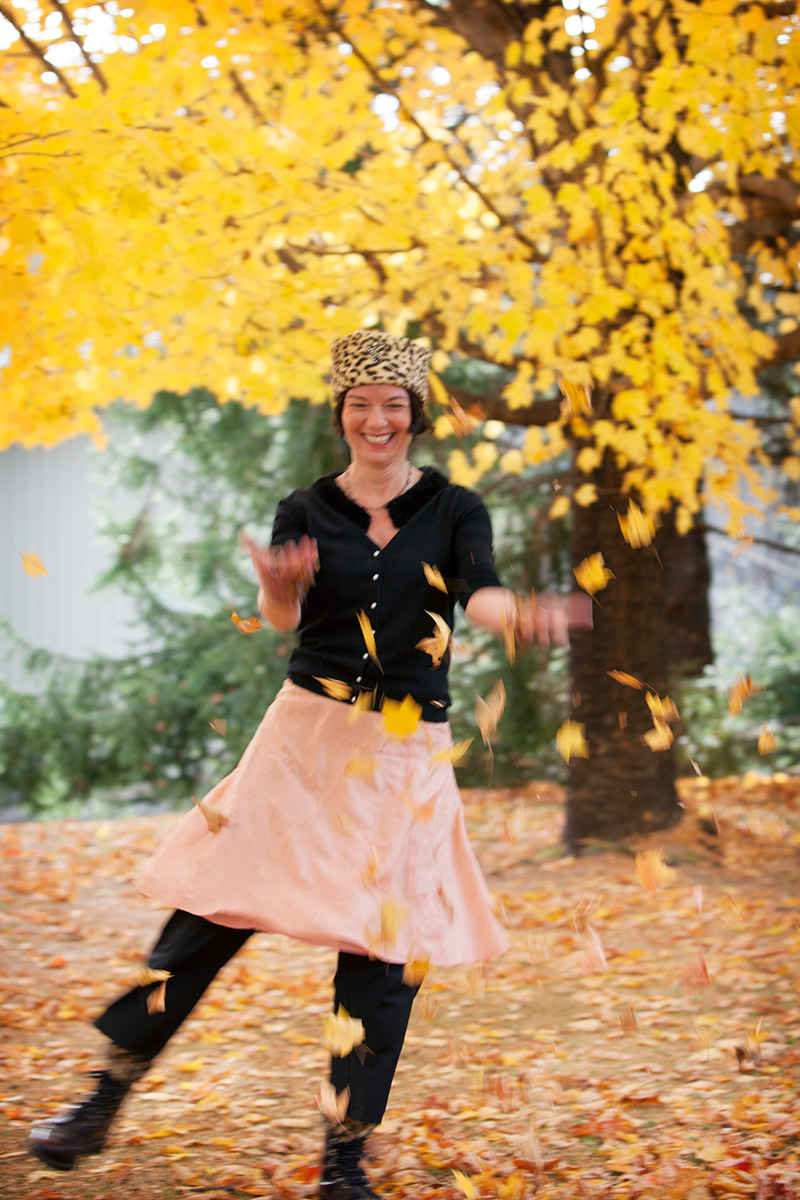 What has been your most challenging chapter career so far—a roadblock or "locked door" moment?
[Sherry]: Well, there is the one I mentioned earlier. Back when I was dealing with intense depression, I felt very "locked in," like my heart was locked away behind an iron wall. That was probably the most challenging chapter of my life.
Career-wise, it was this: I had written my book, Simply Celebrate: 101 Simple Ways to Turn Ordinary Days into an Extraordinary Life. I had written a book proposal that happily hooked in an agent for the book. A great publisher was "definitely interested" in the book and they put it into their system to be run by all the internal departments. I was sure this was "the big moment" when I got a publisher and everything would shift for me into a new career level.
Well, the publishing house's marketing department said the market was flooded with this genre of book and so they turned it down. I was devastated. My agent wasn't able to get anyone else interested. I nearly gave up on my book and my whole business at that point.
That sounds so disappointing. How did you find your motivation again after experiencing that set-back?
[Sherry]: The key was that I realized I never wanted my life to be in the decision-making hands of anyone or anything outside of me. I also didn't want the joy of this book to be diminished by external reviews or judgments.
I let myself bask in the accomplishment of creating this book that I loved. Then, I self-published my book and felt an incredible sense of empowerment and joy.
If I wanted to publish I book, I could publish a book! This was a huge lesson for me in learning that I am the master of my own dreams.
Do you ever fantasize about having a totally different career? What would you do in your fantasy-world?
[Sherry]: Simply Celebrate is my fantasy career!
Although, for a time, I took a gig as a writer/editor for Nickelodeon's parenting website and I got to travel to hotels, stay overnight with my son, and review them. That was a wonderful, fun job that brought me tons of joy. I also got to see all kinds of theater and live music with my son.
That job didn't have the deeper meaning and connection that my "real" work has … but it sure was fantastic and helped me bond with my son. I feel so fortunate to have all those great adventures to remember.
Who are your personal heroes and role models?
[Sherry]: My Zen teacher, Cheri Huber is a tremendous role model for living a life full of joy, vitality, presence, compassion, love, and productivity. She's written more than 20 books and leads retreats helping people turn their attention away from the voices of self-judgment and onto the life they want to live.
My other role models are all around me, everyday. People like you, Ellen, who are doing work they love and that serves the world, despite all the challenges. I'm lucky to be surrounded by people like you who are dedicated to living lives full of creativity and passion. Lives that are gifts to others.
My other role models are the strangers I collect on my Pinterest boards, "Aging Zestfully" and "It's Never Too Late." These are collections of photos and stories from folks over 70 who are living energized, vital lives and who are trying new things, even later in life. I am so inspired by people who don't allow themselves to grow "old" as they age. I have so much work I want to bring into the world and I want to be doing it into my nineties!
Last but not least:
[Sherry]: What's your biggest piece of advice for anyone who wants to do amazing work in the world, stay motivated, and unlock major doors?
I believe there is nothing more valuable we can offer ourselves—and others—than to seek and create pinpricks of light in the world. What are those pinpricks or sparkles for you?
My best piece of advice is to keep asking yourself, "Right here, right now, in this moment, how am I living the life I long to live?" "If I'm not living it, can I do one small thing that enables me to step into that world?"
One more favorite piece of advice: "Life is fleeting. Don't wait. Say it now."
Say it now—and also do it now. Don't wait for the "perfect moment" to take a step towards your dream life or career, or hug someone, or call a friend, or write a letter, or self-publish your book. The right moment is happening right now.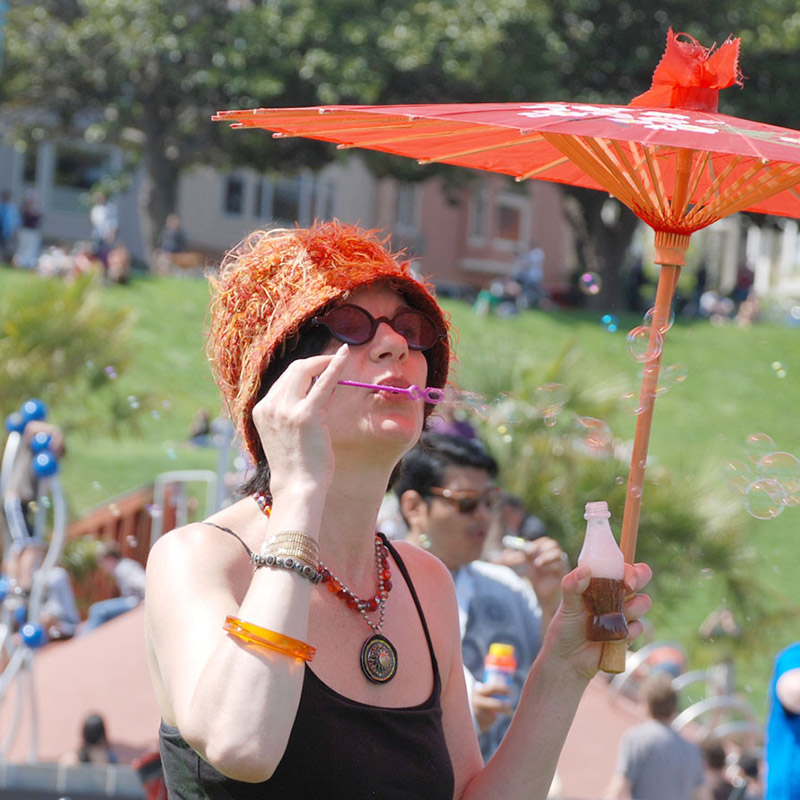 Unlock Yourself
Three questions to think about, write about—or talk about with a friend.
1. Sherry noticed that people often "save" beautiful words and feelings until somebody's funeral. Then, after their loved one has passed away, they express all of their love. Her philosophy is: "Don't wait. Say it now."
Is there something important that you've been "postponing" for too long? Something you need to say? Or a step that you want to take to transform your life or career? What is it? Why do you think you've been "waiting"?
2. Sherry experienced a major set-back after a publisher decided not to publish her book. But she bounced back by taking matters into her own hands—by self-publishing instead! She says that self-publishing made her feel empowered again because the future of her book was no longer in somebody else's hands.
Are you feeling disappointed about something that's happening—or not happening—in your career right now? What is one thing that you could do to take back your power?
3. Sherry's company, Simply Celebrate, is quite unconventional. But it's her dream career and she's making it happen!
Do you have a hobby, a passion, a type of writing, crafting or art that you love to do? Do you ever think about turning it into a business? What might that look like?
---
For more UNLOCKED interviews, click over here.
Know somebody that ought to be spotlighted? Write to me here.
See you next time for another inspiring conversation!